How To Use an Immersion Blender Without Splashing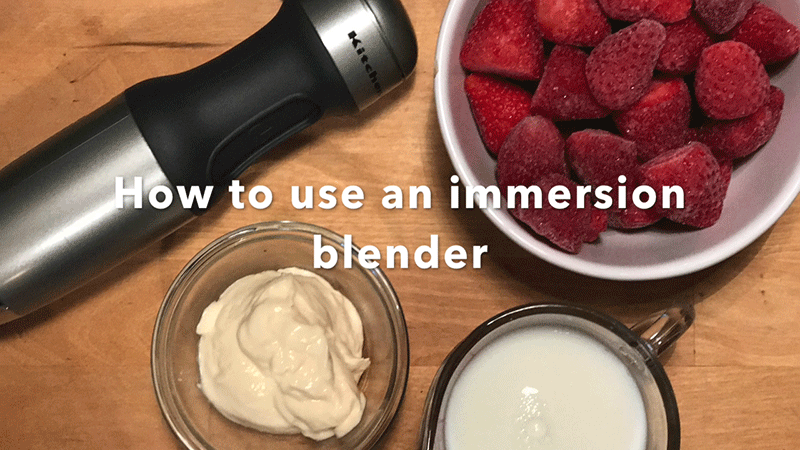 Whether you're making smoothies, creamy soups or homemade mayonnaise, an immersion blender is a vital tool in any kitchen.
These handy little devices let you easily make smooth sauces, perfectly blended soups, and sauces, and mix pretty much anything without dragging out the heavy equipment.
You're likely to go through a bit of a learning curve while learning to mix with an immersion blender… Some frustrations you might experience are over-mixing, inconsistent blending, splatter, and others.
In this handy guide, you'll learn tips to avoid some newbie mistakes by exploring some of the cool things that you can accomplish with your immersion blender.
Mayonnaise
Hazard: Separation from over mixing
Traditional methods for making mayo are super tedious and probably qualify as an endurance sport. That's because making mayonnaise involves emulsifying oil and egg yolk together with vinegar.
Emulsification is the process of finely dispersing tiny droplets of one liquid into another in which it isn't soluble. This takes a lot of energy, and doing it with a whisk is hard work.
Traditional mayonnaise methods require precision measuring additions of tiny, precise amounts of ingredients while mixing so things don't get too sloppy before your whisk can mop things up.
With an immersion blender, you can make mayo, Hollandaise, and Bearnaise in minutes with little or no fussiness.
The trade-off for convenience is the possibility of over-mixing. When you overshoot the sweet spot where oil and egg are perfectly in balance, things get gross real quick. An over-mixed mayo will break, becoming wet and slimy as the components separate.
In order to avoid breaking, add the first half of the oil about a teaspoon full at a time. Once half the oil is in, go ahead and add the rest.
Make sure you blend continuously as you add the oil. You might want to enlist a helper to drip the oil while you run the blender and hold your bowl.
Ready to try it? Check out this easy homemade mayo recipe
Gazpacho
Hazard: Kitchen splatter
Nothing spells sophistication like cold tomato soup. Gazpacho is a favorite at swanky summertime brunches, as a starter for grilled fish and other meats, or an afternoon snack.
The traditional form of gazpacho is a blend of fresh tomato, cucumber, sherry vinegar, and olive oil served cold with a pinch of salt. It's a fantastically refreshing cold soup that's great with a fresh-baked baguette.
Preparing this simple dish is super easy. Drop all the ingredients in a bowl and blend it. The liquid texture of gazpacho, and really any soup, can lead to some unpleasant splashing and splattering when mixed with a hand blender.
So, how to use immersion blender without splashing when blending soups and other thin liquids?
Step-1
First, make sure your bowl is deep enough that the liquid fills it just about halfway up the sides.
Step-2
Any less and the vortex motion of the blending will fling your soup straight up and out onto your kitchen walls and countertops; more and the mix might creep up over the edges of the bowl and escape and the vortex gets moving.
Step-3
Next, submerge the head of the blender in the soup before you turn on the motor, and start on a slower setting (if your blender has a variable speed setting). As you begin to blend, slowly tilt the head of the blender until you see a slow-moving vortex (whirlpool) form in the center of the bowl.
Step-4
Hold your blender in place until the soup is blended to your liking.
IMPORTANT: Turn the motor off before you remove the blender from the liquid!

Get started with gazpacho here
Creamy Queso Dip
Hazard: Inconsistent blending that leaves chunks in your sauce
Everyone loves queso dip. That's a well-known fact. But have you ever thought about how it's made?

It turns out that perfect, creamy queso dip is a super easy crowd-pleaser that's made even easier when you use a hand-held immersion blender.

The best queso dips use a minimal number of ingredients, usually something cheese, beer, and something like sodium citrate to soften the cheese proteins.

The process couldn't be simpler. Dissolve your sodium citrate in the liquid, add the cheese, heat and blend until it's creamy.

The only tricky part is getting the blending right to make sure you don't end up with unsightly chunks floating around in your sauce.

There are two important things to remember in order to avoid chunks:
Don't push the blender all the way to the bottom of the pan.
If you hold the head of the blender in the middle of the liquid.
It will allow the cheese to be drawn into the spinning blades and pulverized into delicious queso sauce goodness.
Move the head of your blender around at a slight angle until the sauce begins to move in a gentle vortex pattern.
This will let the sauce come to you, and gets you to a smooth, creamy consistency much faster than if you move the head around to chase down the chunks.
If you can taste queso now, grab some chips and try out this recipe.
Pancake Batter
Hazard: Tough pancakes from over mixing
Whenever you're working with flour, you're working with gluten. When making pancakes, it's important to avoid over-developing the gluten, otherwise, you'll end up with tough, rubbery pancakes.

An immersion blender is a great way to make the quick pancake batter, but you need to be careful not to over mix. An immersion blender with a variable speed setting is best for this kind of mixing.

After you combine your wet and dry ingredients, start your blender on the slowest speed and mix only until the batter is combined. Finishing the mixing by folding with a spoon will help avoid over mixing.

Ready for breakfast? Grab your maple syrup and try this recipe.

Now that you have some techniques for using your immersion blender to make professional-quality dishes, it's time to get cooking. Have fun and happy blending!

See Other Related Post:

Save

Save

Save

Save

Save

Save

Save

Save

Save

Save

Save

Save

Save

Save

Save

Save

Save

Save

Save

Save

Save

Save

Save

Save

Save

Save

Save

Save

Save

Save

Save

Save

Save

Save

Save

Save

Save

Save

Save

Save

Save

Save

Save

Save

Save

Save

Save

Save

Save

Save

Save

Save

Save

Save

Save

Save

Save

Save

Save

Save

Save

Save

Save

Save

Save

Save

Save

Save

Save

Save

Save

Save

Save

Save

Save

Save

Save

Save

Save

Save

Save

Save

Save

Save

Save

Save

Save

Save

Save

Save

Save