Toaster oven are kitchen appliances that are used for baking, reheating and toasting bread and other food. It is a much quicker and easier alternative than your full-size oven to heat up food, especially in months that are warmer. Toaster ovens are extremely helpful and suitable for small rentals that have kitchens that are tiny in size. In such scenarios, you can save up a lot of space by using toaster ovens.
Since the market is saturated with a number of different brands and models of toaster ovens, it is no surprise that you might get confused about choosing the right toaster for yourself.
Each model offers different features, excels in particular aspects, and is lacking in at least some factors one way or another. To make the entire process easier for you, we have reviewed the 10 best toaster ovens available in the market.
Furthermore, this article also includes a buying guide that will provide you with all the information you might need regarding toaster ovens.
| Name | Weight | Dimensions | Capacity | Price |
| --- | --- | --- | --- | --- |
| Hamilton | 13.4 pounds | 16.8 x 10.8 x 19.8 in | 12" Pizza | |
| Panasonic | 7.5 pounds | 13 x 12 x 10.2 in | 10" Pizza | |
| Breville | 22.5 pounds | 18.5 x 16.2 x 11.2 in | 6-slice toast | |
| Cuisinart | 32.4 pounds | 20.9 x 16.9 x 11.4 in | 13" Pizza | |
| Oster | 26 pounds | 24 x 21.5 x 16.7 in | 8 slices of bread | |
| Black&Decker | 15.76 pounds | 22.8 x 13.4 x 15.5 in | 12" Pizza | |
| KitchenAid | 19.7 pounds | 18 x 15 x 13.9 in | 2-12" pizzas | |
| CuisinartTOB | 16.25 pounds | 20 x 17 x 12 in | 11" Pizza | |
| Waring | 14.33 pounds | 13.2 x 30.2 x 9 in | Toast 4 slices | |
| Cuisinart100 | 11.85 pounds | 15.2 x 13.1 x 8.2 in | 4 slices | |
The 10 Best Toaster Oven Reviews In 2021 Edition:
We have gone into some detail about what basic features and accessories a good toaster oven should have.
Let's now take a look at the 10 best toaster ovens available in the market these days. Below mentioned are detailed reviews of these toaster ovens, along with the pros and cons that each model offers.
The Hamilton Beach Easy Reach Oven is a great option for you if you are looking for a toaster oven that does not require frequent cleaning and is easy to use. It is extremely easy to access hot meals from this toaster, and this can be very convenient if your kids will be using the toaster oven as well.
Compared to the old traditional toaster ovens that featured doors that opened outwards and down, this one has a unique roll-top door which helps you to take out and put in the food very easily.
The design of the unit is very spacey and helps keeps the door free of stray crumbs and any gooey cheese that can easily stick to the sides and the door of the oven.
Even though this model is a little smaller in size as compared to many other toaster ovens, it is still large enough to heat a 12-inch frozen family sized pizza and make toast for 6 people. However, the interior does not have sufficient space to accommodate large cuts of meats. It comes with a full-width easily removable tray and a 9×3 inch baking pan.
Furthermore, the convection fans located inside the unit ensure proper distribution of heat, so the food is cooked evenly and completely from the inside as well.
The unit has 3 cooking modes; broil, toast, and bake. The temperature can be set between 150F and 450F. Moreover, the model has a large window that allows you to keep an eye on the meal being cooked.
However, one of the problems you might face using this toaster oven is that the exterior body of the unit warms up while the unit is running. Hence, you might want to be careful while touching the outer body of the unit when the food is ready.
Other than that, this oven is a great and affordable choice if you are looking for a toaster oven that will fulfill the needs of your small family.

Comes at an affordable price
Door and crumb tray both can be removed for easy cleaning
Takes up less space
The unit is simple and easy to operate
The exterior of the unit heats up while food is being cooked
No light inside the oven
Since the interior of the unit is not non-stick, it can be difficult to clean
This model is recommended for people who are in search of a small toaster oven that is capable of preparing frozen snacks, making toast and reheating a couple of slices of pizza.
The Panasonic Flash Xpress is outstanding in its powerful baking performance, reasonable price and compact size. This model cooks the food evenly, unlike many other models who are on the expensive end that does not cook food evenly. The heating elements are located in both the back and the front in this model.
This ensures the proper heating of the food. The elements at the front cook and heat the food from the outside whereas the one heating elements at the back cook the food from the inside. As compared to traditional models, this one is capable of heating up food 40% faster.
The unit does not require you to preheat since it features double infrared power. You simply need to turn the unit on and pop in the tray of the food you will be cooking.
The control settings are displayed on a stay cool panel, so you can easily read and operate the oven. It features 5 browning levels and 6 preset options.
The model cooks toast to a lovely golden brown and its toast shade settings are also very accurate. It can also automatically calculate the browning level for pizzas, toasts waffles and frozen foods.
Furthermore, the toaster also features an easy to use the timer, that can be controlled by up and down arrow icons.
The cooking and heating time is displayed on a large and bright digital display. An electronic beep announces when the food has been cooked and is ready to be served.
The baking rack is connected to a handy see-through door. The rack extends towards you when the door is opened, this helps you reach the food easily and ensures safety. The rack smoothly slides back inwards when the door is closed. Effortless opening and closing is provided through double hinges on the drop-down door.
At an affordable price, this model certainly stands out among many other cheap models that are not efficient enough. The features that this model is equipped with are as efficient and good as the features found in costly and larger models.
It cooks food 40% faster than standard toaster ovens
The interior is illuminated
The unit automatically calculates cooking time for frozen food, bread and reheating.
It can heat food instantly between 250 and 500 degrees Fahrenheit
Height of rack is not adjustable
Does not have a broil feature
If you are interested in buying a toaster oven that is simple and easy to use, the Breville 'Smart Oven' might be the right choice for you. This model is termed as 'smart' because the cooking and heating time of the food can automatically be adjusted through nine preset menu functions.
Moreover, it features element IQ' Technology through which only those parts of the oven are heated that would be used to cook the selected food evenly and properly. For example, when the 'toast' option is selected, a high, even heat will be used. Whereas for meat, differing heat levels will be used that will ensure the even and thorough cooking of the meat.
Furthermore, this model also features convection cooking that turns on when needed, for example, while baking or cooking meat.
Other heating and cooking settings include bake, toast, broil, defrost and convection cooking. They all can be selected manually as well. If you have things to cook in a toaster oven that might be best for your oven.
The overall performance of the Breville Smart Oven is pretty impressive. The smart functions work perfectly and every food from chicken to pizza are cooked fully and deliciously.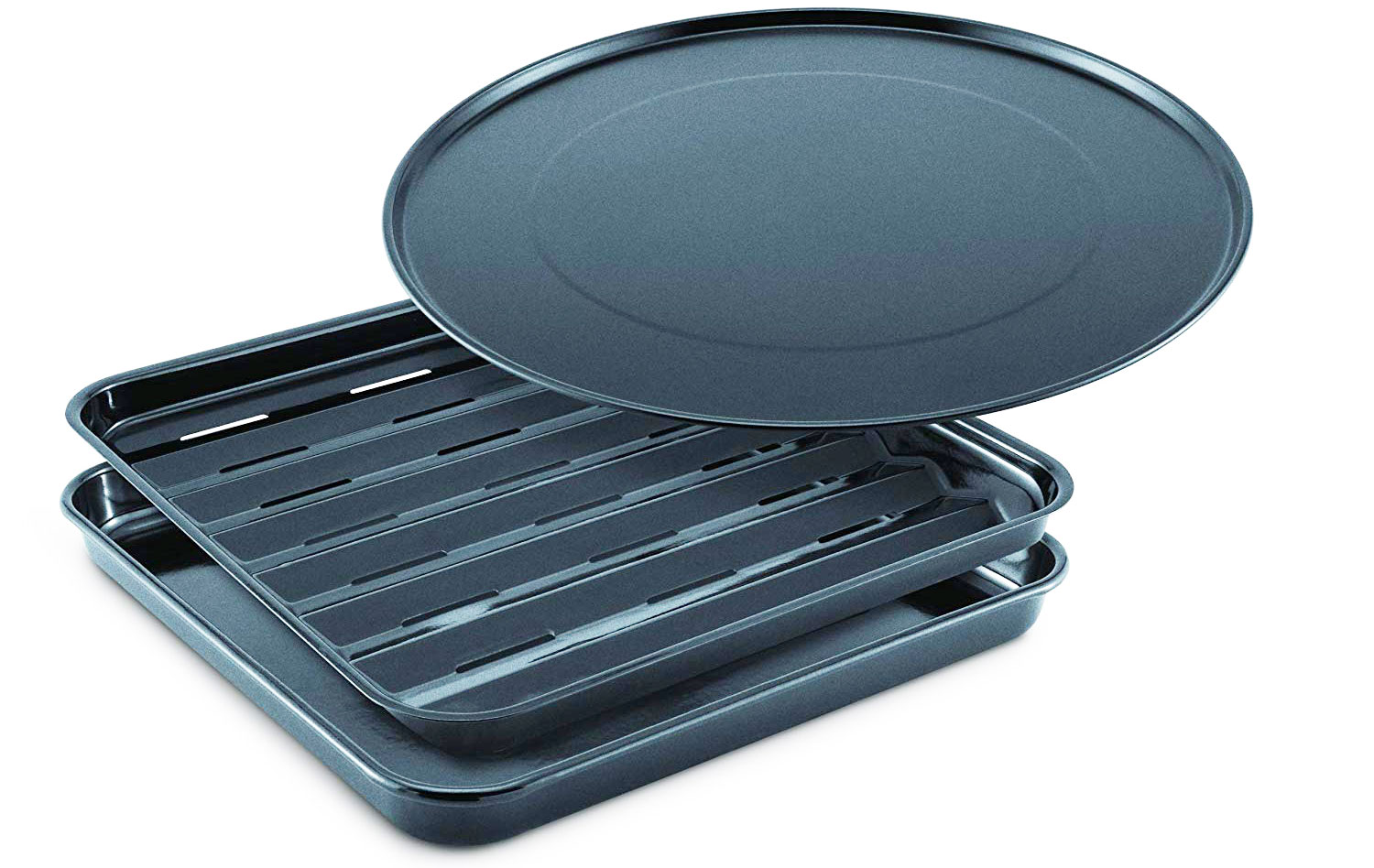 Other features that the model is equipped with are an adjustable rack with auto-eject feature, a tow hour timer, an easy to use digital display non-stick interior and knobs that manually adjust the timer and temperature.
Another thing that is worth mentioning is that the exterior body of the oven stays cool, no matter what temperature the food inside is cooking at. Hence, you won't have to worry about burning your hand while taking out trays.
One of the downsides of this model is that for the price, the size of the toaster oven is smaller than what most people would expect. It can hold a 13-inch pizza, a small chicken or six pieces of toast, but at the price, many competitors have spacey models. It also comes with only one rack.
However, if we look at the efficiency and the performance of the model, it is worth praising. If the small size of the oven is not a problem for you, then this one is a good choice.
The food is prepared quickly
LCD display changes color when heating
It has an attractive design
Offers enormous power
It is a bit pricey
Small in size
For bigger jobs, the versatile Cuisinart Chef's Convection oven is among the top choices for toaster ovens. This model is capable of toasting up 9 slices of toast, roasting a whole chicken and cooking a 13- inch pizza at once.
As compared to the Panasonic Flashxpress, this model is double the size and has a much bigger oven cavity that can cover several cooking tasks at a time.
As compared to other toaster ovens of the same price, this one is capable of cooking food evenly and thoroughly. It also comes with more accessories, good warranty time and one of the shortest preheating time.
Many other toaster ovens that come at this price do not offer even heating as they concentrate heat only towards the center and the extreme ends of the oven, whereas, this one makes sure that the food is cooked properly from corner to corner.
This model features a number of accessories: a baking pan, two racks, ceramic pizza stone, and a broiling tray. The pizza stone is very useful as it helps make crisp, golden-brown pizza crust. Many of the competitors of the same price offer a flimsy pizza pan and a single rack.
A standard quarter sheet tray can be easily fitted into the wide oven cavity. The model has metals hooks that help pull the middle rack out when the door is opened and four slots for the racks.
It only takes 3 minutes for the model to preheat to 350 °F. As compared to other models the preheating time is pretty impressive as well.
This unit comes with an unusual feature that is not easily found in other toaster ovens: a setting known as dual-mode. This allows you to hook two existing modes together to play out back to back, hence you can program your own cooking cycle. For example, if you are baking cinnamon rolls, by utilizing this mode not only can you bake the rolls to perfection, but you can also run a 10-minute warming cycle automatically after the rolls have been baked.
The model comes with a three-year warranty, which is very impressive since most of the models only offer a one-year warranty. Overall, this model is very good at performance and has an amazing capacity.
If your profession requires frequent baking or you just need a big sized, efficient toaster oven at home this might be your best pick.
Toasts evenly and quickly
Heavyweight baking pan
Control panel was easy to read and use
Excelled at convection roasting a chicken quickly
Two oven racks
Good at baking a cake
Poor at baking pizza on pizza setting
Accessories were not dishwasher safe
No alert at end-of-cooking
Crevices made it harder to clean
5. Oster

TSSTTVDGXL-SHP

 – Best Toaster Oven America's Test Kitchen
The Oster TSSTTVDGXL-SHP is a great addition to the larger sized toaster ovens on our list. This one is large enough to have 9 slices of bread fit in easily. You can also heat a large family size frozen pizza and kool-aid in this model.
The curved back of the oven makes sufficient space for the pizza to be fitted in the oven easily. The height of the toaster oven is similar to a basic microwave and so are the buttons on the microwave.
This model has Turbo Convection Fan; hence you don't have to worry about waiting a long time before your meal cooks. Furthermore, it also includes toast, bake, broil and defrost settings. You can set the timer up for 90 minutes, which is much more than what its competitors are offering at the same price. It can be set between 200 and 450 degrees in 25-degree increments.
The display does not show the current temperature when you set the timer, but when the desired temperature is reached the model produces beeping noise.
One of the things we love about this toaster oven is that it allows even heating and no matter what you are cooking or heating and no matter where it is placed on the rack, it gets done properly and evenly.
Reheating chicken and pizza just takes a couple of seconds. Two racks can be utilized at a time, however, if you want to place a bigger item in the oven you can simply take out one rack to make space.
One thing you should be aware of is that at times the model runs around 13 degrees hotter than it should, so you might want to adjust the cooking and heating time accordingly. You will be pleased to know that the exterior of the oven does not get hot or warm at all when the food is cooking.
Hence you are less likely to burn your fingers and the oven can also be safe to use for children. This model costs around $100 and comes with a 1-year warranty.
If we consider the size and the performance of this unit, we can say that it is worth the price. If you want a toaster oven that is safe to use, comes at an affordable price and is efficient, you might want to look into this model.
It has a digital display and a touchpad.
You can set the timer up to 90 minutes.
It comes with two adjustable racks.
There is no stay-on feature.
It doesn't come with a broiling rack.
It runs hotter than it should.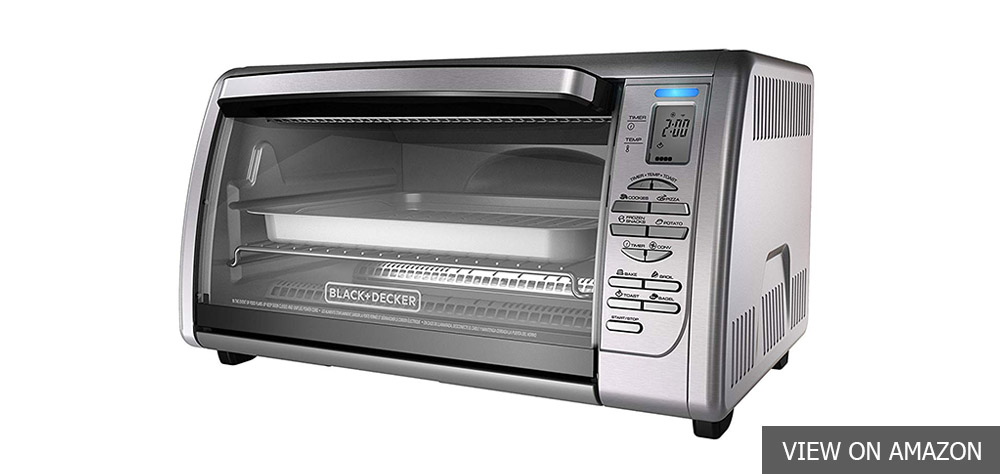 Another great addition to our list is the Black & Decker CTO6335S. The unit comes with a broiling tray, baking tray and preset buttons that let you choose from pizza, frozen snacks, broil, potato, bagel, and toast.
It also allows you to operate the Convection Fan at your convenience and features a timer that can be set up to 120 minutes.
However, it does not feature a stay-on button which means that if you want to run it longer than the allotted time you will have to set the timer again.
While the food cooks, the current temperature is constantly displayed on the screen. Like most of the ovens on our list, this one too is great for cooking the food properly by distributing heat evenly across the cavity of the oven. This helps the food get cooked properly from the outside as well as from the inside.
The oven runs at a very accurate temperature. Furthermore, the unit has a non-stick interior and it can easily be cleaned by removing the crumb tray.
Some minor downside to this model is that the buttons are a little finicky and you will have to press a little firmly to get the oven working. However, that is not much of a problem.
Moreover, the timer can only be started after you chose a temperature setting. This can be a bother at first, but you eventually do get used to it.
One thing that is a concern is that the exterior body of the body gets heated when the food is cooking, so if you have kids at home you would want to keep an eye out for this.
This model offers a two-year warranty, which is pretty good as compared to several models. Overall, if you are looking for a toaster oven that is basic but efficient, enough for your family then you might want to have a look at this model.

It's large and toasts evenly.
Offers accurate temperature
There is no 'stay on' feature.
Body of the oven gets hot when a meal is being cooked
The controls of the unit are a little finicky.
If you are looking for a toaster oven model that is similar to the Breville model, the KitchenAid KCO273SS is the right choice. This unit features 9 preset settings for (bake, pizza, broil, toast, warm and reheat) and it also produces 1800 watts of power.
One thing that we absolutely love about this model is the convection function and the lower and upper elements are programmed to work according to what is cooking. The defrost and convection functions have separate buttons whereas, the temperature and presets are controlled with knobs.
The settings are clearly displayed on the unit hence you can choose easily. According to performance, this model cooks just as good as Breville. The food is cooked evenly and properly.
As compared to Breville, the outer body of this unit stays even more cooler. It features an automatic shutoff, a two-hour timer and a non-stick interior, which makes it so much more easier to clean the oven. Now a days we don't know how to clean inside of a toaster oven properly, that's are really great mistake to us.
Now, let's discuss a few of the downsides of this model. The first and foremost factor that might concern some buyers is the size of this toaster oven. Measured at 12 inches we can say that this model is not much smaller than the Breville one, but it is also true that every inch matters when we talk about smaller appliances.
It is difficult to fit in a full chicken into this unit. You will only get enough space to fit in a Cornish hen or chicken breasts.
However, this unit does feature two racks in the oven and its price is much lower than the Breville as well. Other than the small size of the model, there isn't any other significant downside to the model that can be regarded as a big problem.
Hence, if you think that a small toaster oven is sufficient enough to fulfill your needs, then this model is a good choice for you.
It comes at an affordable price
Allows even heating of food
Upper and lower elements work according to what is cooking
Features non-stick interior.
It has an attractive design
A classic toaster oven that definitely deserves a mention among our list is the Cuisinart TOB-40 toaster oven. This model features a nice and strong looking glass door with a cool-touch handle. It is composed of stainless steel though the exterior body of the oven does not heat up when the food is cooking inside the oven.
The model features an auto slide-out rack, hence it is quite easy to load and unload meals. You can find the control on the front of the oven. Surprisingly, these controls are in dial design. One minor problem is that the controls can be a little difficult to read if you have weak eyesight.
This toaster oven cooks food evenly and completely. It allows you to bake your favorite treats deliciously and broil, helps toast to perfection and it even features a bagel function. The body of this toaster oven is large enough to fit 6 slices of toast and an 11-inch pizza at the same time.
Apart from the oven rack that you are offered with the toaster, it also comes with a baking pan and a broiling rack. The interior of this model has been coated in such a way that cleaning the oven is quite easy.
Overall, this model is a decent choice if you are looking for a toaster oven that is simple and easy to use. It also comes with a two-year warranty, which is good because most of the competitor models usually offer only a one year warranty.
Comes with a two-year warranty
Allows even cooking of food
Features an auto slide-out rack
The unit is simple and easy to use.
It does not have a timer
Controls can be a little difficult to read.
If you are looking for a toaster oven that is affordable then you should consider having a look at Waring Professional as this unit is very easy on the wallet.
The outside of the unit has a brushed, stainless steel finish and the design of the unit is very clean looking overall. You can find all the controls and settings located neatly towards the right side of the door.
The settings, temperature, and functions are clearly mentioned and can easily be chosen. The unit offers bake, toast and broil settings and the makers of this unit included a 'light to dark' finish setting for your slices of toast.
You can put in 4 slices of toasts in this unit at a time. Furthermore, the model comes with a wire rack, a baking pan, and a broiling pan. If you are cooking a chicken or a meal that needs more space, you can easily take out one of the racks to create more room.
The unit includes a 30-minute timer that turns off automaticity once the meal is cooked. The unit has a temperature range from 150 to 450 degrees and runs on 150 watts of power output. You can certainly say that this little toaster is pretty powerful and has very good performance.
Overall, if you need a toaster for small day to day tasks of cooking and heating, than this model is a very decent choice.
Comes at an affordable price
Is simple and easy to use
Allows even heating of meals
Has an average durability
The beeping noise is too loud for some people
This model is a little on the costly side but does offers an excellent performance. As compared to dials, people mostly prefer to get a toaster oven with digital control. This is mostly because digital controls are precise, simpler, easier to use and manipulate.
What we love about this model is that it features a digital display. Let's look at the features that this model offers.
For a small unit, this model offers much more cooking functions than most of the other units are offering. It features 7 settings including bagel, toast, broil, sandwich, bake, leftover and keep warm.
The unit allows you to choose the color of the toast and bagel from light to dark. The time for the preparation of the toast is set according to your setting and the always even shade feature ensures the same result each time.
Upon choosing the bagel function, the bottom side remains cooler than the top side which is much hotter. However, if you choose the sandwich mode the top side remains cooler and the bottom side will be hotter. This will allow more heat to cook the sandwiches properly from the bottom and enough heat on the top side to melt the cheese.
In simpler words, you can alter the settings in such a way that different heat levels are provided for the top and the bottom sides depending upon the meal. This feature allows you to get much better cooking results.
A selector dial is used to select the temperature, set the timer and toast shade. You can stop the heating or the cooking of the meal at any time by using the STOP/START button.
Hence, you can stop the cooking process if you feel that your food has been prepared before the timer runs out. If necessary, you can also alter the toast shade, temperature and cooking time mid-cycle.
A blue backlit light is featured on the LCD display. Furthermore, preheating is indicated through a flash. The unit beeps once the meal has been cooked and shuts the heat off automatically.
The auto slide of the rack allows you to place and take out your meals easily. Since this model features a non-stick interior, it is easy to clean. For a quick clean up you can take out the crumb tray from the bottom of the oven,
The buttons work and press really nicely
Easy to see and read display
Kids find the toaster very easy to use and control
Preheating is very convenient as the toaster notifies you with a beep when it has reached the correct temperature.
Three beeps are sounded when the heating cycle is complete.
Baking and Broiling is really great on this machine.
The dial seems a bit sensitive
Display brightness is less
The number of features and the efficiency of a toaster oven is most of the times, dependent upon the price. The models that are a little on the pricey side will obviously include better and more abundant features.
The prices of toaster ovens can range anywhere between $25 to $1000. We focused on reviewing the models that are efficient yet affordable. For additional information, let's look at what each price level typically offers:
Under $100:
Controls and timer need to be set and altered manually
Usually offers imprecise temperature regulation
Small-to-medium oven cavity
Fewer accessories (include mostly one oven rack instead of two)
$100 To $250:
Usually have medium to large oven capacity
Usually, come with a number of accessories such as baking pans and pizza pans
Digital screen/electronic controls and timer
Preset cooking functions for different food items
The oven light is included
The temperature regulation is reliable
$250 And Up:
Usually offer extra features like dehydrating modes and air flying modes
Everything you get from a $100 to $250 toaster
Better temperature regulation
How We Put The Test Of Heat-Map Results
Features That You Should Look into Before Choosing a Toaster Oven:
Below mentioned are the features and accessories a good toaster oven should have.
Ease Of Operation
Performance of the oven aside, a good toaster oven is supposed to be easy to use and should have controls and buttons that clearly mention their functions on the top, so you don't press any wrong buttons.
The display should be simple and understandable. The most basic functions should include adjustable toast shade settings and adjustable temperature controls (ideally ranging between 150°F and 450 °F)
Even Heating
The even and proper cooking of food is dependent upon several factors:
The number of elements used and the distance that food is placed from heating elements etc. There are several toaster ovens that only come with two heating elements, however, having just a few heating elements is not an indicator of the poor performance of the toaster oven.
Additional heating elements are not required to regulate heat if the oven cavity is small in size. You should avoid buying toaster ovens that are large in size but are equipped with just a few elements because they are insufficient to distribute heat evenly.
On the other hand, if a toaster oven has a lot of heating elements and is large in size, it will likely be on the expensive side.
Since most people do not keep in mind the importance of heating elements while shopping for toaster ovens, we made sure that we included only those toaster ovens that are equipped with good and efficient heating elements.
Reasonable Size
Toaster ovens come in a number of different shapes and sizes. Some people need smaller sized ovens for tasks that are simple such as baking snacks or making toasts and cookies. Whereas, others require an oven that is fairly larger in size, for example, a unit that can easily fit a whole chicken or a 12- or 13- inch pizza in it.
One thing that should be kept in mind is that a large toaster oven can be very difficult to move around since they tend to be a lot heavier. Smaller toaster ovens are much easier to carry around since they weigh less and can easily be stored away in cupboards.
The toaster oven that will suit you the best is the one that has sufficient space and heating power to fulfill your cooking needs but is also the right size.
Useful Accessories And Extra Features
Some basic accessories that all toaster ovens are equipped with are oven racks, crumbs trays, and baking pans. Toaster ovens that are a bit more expensive often include additional pans such as pizza pans and broiling pans.
To catch crumbs and grease, a crumb tray is very necessary. But those other toaster oven accessories might not be very useful if you already have a quarter baking pan of the right size.
However, it is good that these baking pans are provided since most toaster ovens have different dimensions, many of which do not fit standard baking pans.
If you are looking for extra baking pans and oven racks you can find them online as well. An oven light or an efficient timer are not necessary but are good additions nevertheless. Other features such as pull out racks, automatic cooking mode and time alarm are also convenient.
Sufficient Warranties
Most toaster ovens come with a year warranty, regardless of the price. Hence, you should opt for a toaster oven that comes with a good warranty time.
Frequently Asked Questions About Toaster Oven:

Is a Toaster Oven Worth it?
A toaster oven is an electrical kitchen appliance that functions like a miniature version of a large, conventional oven. It can toast as well as cook various types of food faster and much easier. The best toaster oven comes in various sizes. It is more energy-saving than a regular oven.
Besides, the countertop appliance can crisp and brown your morning toast better than a microwave could. You can also use a toaster oven to handle whole shell eggs, fish, pizza, muffins, kebabs, etc. Whether small, medium or large, a toaster oven is worth it as it can handle these three basic tasks perfectly, toasting, defrosting and baking.
Should I Buy a Toaster or a Toaster Oven?
Toaster oven is small electric appliance for exposing several varieties of sliced bread to radiant heat, which browns the bread to become toast. A toaster oven is also an electrical kitchen appliance that works like a conventional oven and can both toast as well as cook various foods.
A toaster is not only much faster but also user-friendly when it comes to toasting bread. On the other hand, a toaster oven handles other food types efficiently, which makes it great. Well, if you cannot afford both, then go for a toaster oven since it can cook several types of food and also do what a toaster can do. Note that a toaster cannot, for example, bake a chicken.
Do All Toaster Ovens Get Hot on the Outside?
This transfer of residual heat from the interior of a toaster oven to the outside, causes the oven to become hot outside. This happens in the oven parts that transfer heat like the top and not the oven door handle. It is not every toaster oven whose outside gets very hot. Some ovens cannot get hot enough to heat up the space around them.
They just get warm and can be touched, more or less like the top of a toaster oven that is bound to get hot. You should also make sure to avoid keeping any inflammable object such as a plastic bag near or on top of your toaster oven, else a fire incident will happen someday.
Why is the Outside of My Oven Hot?
When residual heat is transferred from the interior of an toaster oven to the outside during cooking, the oven gets hot outside. The transfer of this residual heat does not imply that the toaster oven is not safe for use or considered to have a problem.
If you are using a double oven, you will know that heat from one oven can cause the other to become warm. Note that most cabinet manufacturers recommend that a heat shield be used on the cabinets beside a range because ovens are prone to be hot outside, including even best toaster oven in the market.
How Hot Does it Get Under an Oven?
The section under a toaster oven is the bottom drawer which is designed to store the oven tray and other utensils used for cooking. It can be quite warm, which is why you are not required to keep anything under the oven that can get hot enough to melt or catch fire.
The temperature levels of the space under the oven can typically get warmer to about 200 degrees Fahrenheit. Besides, if an oven is self-cleaning, it can get even hotter, especially if it has enough insulation to keep much heat. In theory, a self-cleaning oven can reach temperature levels of above 500 degrees Fahrenheit.
See Other Related Post:
Save
Save
Save
Save
Save
Save
Save
Save
Save
Save
Save
Save
Save
Save
Save
Save
Save
Save
Save
Save
Save
Save
Save
Save
Save
Save
Save
Save
Save
Save
Save
Save
Save
Save
Save
Save
Save
Save
Save
Save
Save
Save
Save
Save
Save
Save
Save
Save
Save
Save
Save
Save
Save
Save
Save
Save
Save
Save
Save
Save
Save
Save
Save
Save
Save
Save
Save
Save
Save
Save
Save
Save
Save
Save
Save
Save
Save
Save
Save
Save
Save
Save
Save
Save
Save
Save
Save
Save
Save
Save
Save
[/su_note]